Articles in press have been peer-reviewed and accepted, which are not yet assigned to volumes /issues, but are citable by Digital Object Identifier (DOI).
Abstract:
Multiple chitinases are required for effective hydrolysis of insect epidermal chitin and play an indispensable role in insect molting. As chitin is absent in plants and mammals, these enzymes can be potential targets for the design of green insecticides. In this paper, three dual-target inhibitors against the Asian corn borer (Ostrinia furnacalis)-derived chitinases OfChtI and OfChi-h, anacardic acid, di(2-ethylhexyl) phthalate (DEHP), and shionone, were obtained through high-throughput screening of 1680 natural products. The respective Ki values for OfChtI are 0.57, 0.53 and 3.95 μmol/L, and are 0.48, 1.42 and 27.33 μmol/L for OfChi-h. The molecular docking results showed that all three inhibitors were bound to the substrate-binding sites of the target enzymes through hydrophobic stacking interaction. In addition, the 1-carboxyl oxygen atom of anacardic acid, as a hydrogen bond acceptor, formed hydrogen bonds with guanidine hydrogen atoms of Arg274 side chain in OfChtI and Arg439 side chain in OfChi-h, respectively. The carbonyl and etheryl oxygen atoms of DEHP, as hydrogen bond receptors, formed hydrogen bonds with hydrogen atoms of Arg274 guanidine group side chain in OfChtI; the ether-based oxygen atom of DEHP, as a hydrogen bond acceptor, formed hydrogen bond with guanidine hydrogen atom of Arg439 side chain in OfChi-h. The insecticidal activity was determined to be 33.3% for anacardic acid and DEHP at 2 mmol/L, while shionone showed no obvious insecticidal activity. This study may provide a clue for the development of novel green pesticides targeting multiple chitinases simultaneously.
Abstract:
A rapid fluorometric method was established to detect glyphosate by using cerium ion and pyrophosphate ion (Ce-PPi) coordination polymer networks (CPNs). Based on coordination of cerium ion (Ce3+) and pyrophosphate ion (PPi), fluorescent Ce-PPi CPNs were synthesized by simple self-assemble process, and the structure and properties were characterized. Upon introducing glyphosate, the ligand field effect of PPi with Ce3+ was weakened resulting in a decrease in fluorescence of Ce-PPi CPNs. Based on this principle, the quantitative detection of glyphosate was achieved by optimizing the conditions, with R2 of 0.9972 and the detection limit of 0.014 μmol/L. The established method based on Ce-PPi CPNs possessed outstanding sensitivity and exclusive selectivity for rapid detction of glyphosate, and could be used for the detection of glyphosate in tap water and apple samples. The limit of quantitation (LOQ) was 0.05 mg/kg and the recoveries were between 77% and 87%. The method provided a potential choice for the rapid, on-site and real-time, detection of glyphosate.
Abstract:
Succinate dehydrogenase (SDH) is one of the important fungicide targets. However, many plant pathogens showed medium and even high resistance to commercial fungicides targeting upon SDH. So, it is very urgent to design new novel inhibitor for SDH. Pharmacophore-linked fragment virtual screening (PFVS) is a high-throughput drug discovery approach independent of biophysical screening techniques and flubeneteram, a novel fungicide candidate targeting SDH, was successfully obtained by PFVS. Here, the development process of the fungicide flubeneteram was analyzed in detail, including the principle of PFVS, the discovery of lead compounds, the modification of substituents and the study on fungicidal activity. The discovery process of flubeneteram would provide novel ideas and methods for pesticide researchers.
Journal Introduction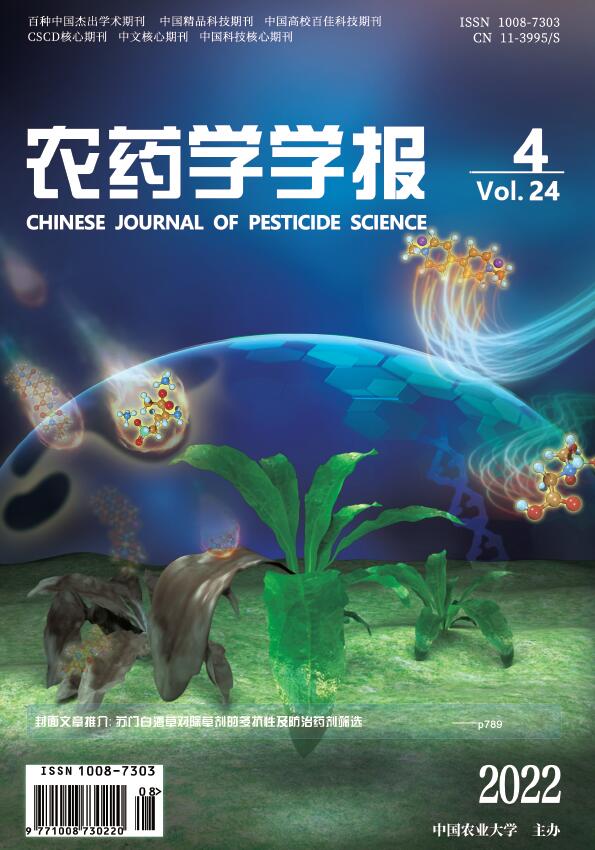 Editor-in-Chief:ZHOU Zhiqiang
Deputy Editor-in-Chief:PAN Canping
Address:College of Science, China Agricultural University, Beijing 100193, China
Postal Code:100193
Tel:86-010-62733003
E-mail:nyxuebao@263.net
ISSN:1008-7303
CN:11-3995/S